New percussions by Soundsation
Namely, mango wood has been used to build Madera series congas and bongos.

Mango wood offer a sound similar to Siam Oak (aka Thai Oak or Asian Oak) which is widely used by many percussion manufacturers, adding a stunning visual effect. Brown open-pore finish emphasize the natural and exotic aspect. SCO10M congas are available in set of Quinto + Conga (10+11") with elliptical lugs and satin black rims. SB01-MH bongos 6"+7" are equipped with comfort rims and with reinforced tension rods of 8mm and they are built with the same Mango wood with brown open pore finish.
Loyal to our phylosophy of making music accessible to all, Soundsation propose a new line of entry level bongos SB-NW10 which is available in three different finishes: Natural Sation, Dark Wood satin and wood stripes. Sized 6,5+7,5" are the perfect instrument for beginners, music schools or simply for percussion lovers who wants to enjoy at home or at the park.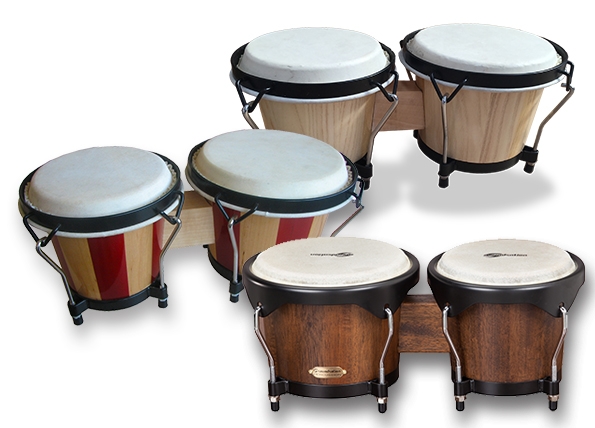 Lastly but not least, new models has been added to the Aymara Cajon series: SCAJ-25 in Vintage Brown finish and SCAJ-05 in natural finish.
The Cajon has recently become extremely popular first among latin music players such as Flamenco, but ultimately it has been add to many styles together with drums or other percussions. It's often used as a bass drum in small portable drum kits using a special pedal. Aymara series Cajon are all built inSiam Oak and with snares. Built with high quality material and high level finishes, ensure a perfect tuning all the time and a great sound projection.