NEW STAGEBOXES – Live setup made easy
Live gigs of all sizes and types requires a lot of wiring. Typically to ensure proper amplification to a band in a small live set, you need to have a minimum of 8 connection. The mixer console is far away from the stage to ensure proper monitoring and balance of all components, thus needing long connection cables.
To make your life easier, Soundsation developed a full line of stageboxes of various configuration and type. A stagebox is a metal box having several XLR inputs and outputs with a multicore cable to connect to the console. In this way, you have a single place on the stage where to connect all mikes and equipment and a single big multicore cable to reach the mixing consoles.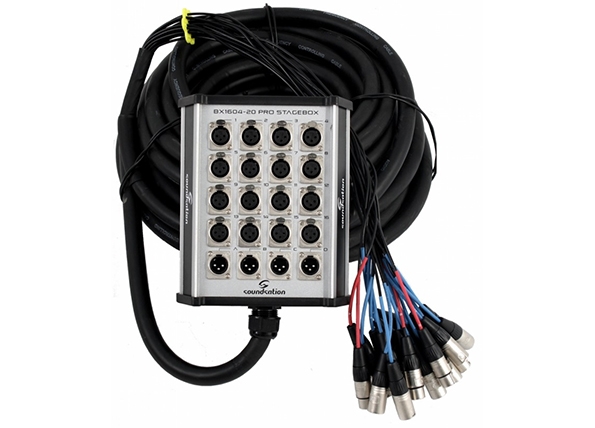 The Soundsation line consist in several configurations to suit all stage sizes and needs. The line goes from 8 inputs, 15 meters multicore cable to 24 inputs, 8 outputs 30 meters multicore cable. Recently more connections/length configurations has been added. SBGX line uses rugged construction, high quality materials and Yongsheng by Neutrik connector to resist the on the road abuses and offer a reliable sound transmission.
A lot of bands nowadays are doing the monitoring by themselves, thus they carry a lot of equipment. This is especially true in small live gigs on bars, pubs, etc. For this purpose, we designed a convenient , easy carrying and easy to use roll stage box line called SCBD. The SCBD seris comes with a roll which allows to wind and unwind the multicore cable easily and efficiently. When you arrive at the stage, just roll out and connect. When you leave the stage just wind up and put the stagebox in your van.
Built with the same high quality materials of SGBX line and Yongsheng by Neutrik connectors, the SCBD series comes with 8 inputs and 15 or 20 meters multicore cable configurations.
Live setup made easy!